4 min read
7 Apartment Marketing Ideas for Filling Holiday Vacancies

David Schwartz Dec 21, 2016 2:57:48 PM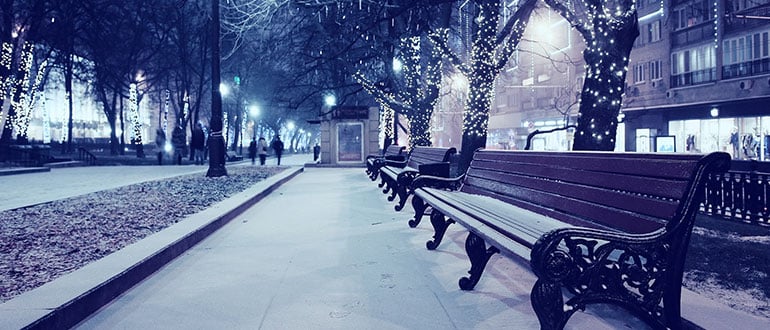 Most people hate moving...
The packing of boxes, the lifting of heavy objects and the expense of hiring professional movers (or the inconvenience of bribing friends) is enough to make anyone procrastinate.
But you know what people hate even more?
Moving when it's cold outside.
TRANSLATION: Fail to fill vacancies by Thanksgiving, and you'll have plenty of time for picking out paint samples at Home Depot. Unfortunately for the property managers of New York City apartments, the winter months are notoriously slow.
But slow does NOT equal hopeless—people move ALL the time, for a variety of reasons. Changing jobs, changing relationships and planning around other important events can all necessitate winter moves.
7 Apartment Marketing Ideas for Filling Holiday Vacancies
All you have to do to attract the attention of those transitional folk is UP your marketing game. In this article, we'll highlight seven apartment marketing ideas for filling those holiday vacancies.
01. Run Facebook Ad Campaigns
When it comes to running apartment promotions on social media, Facebook is king. The platform boasts an average of 1.18 billion daily active users—making it a prime option for property managers looking for new renters.
If you are thinking, "We already have a Facebook page; it doesn't do anything for us" we understand. But we have to ask "Is Facebook really not working for you, or are you simply not using it correctly?" Unfortunately, creating yet another New York City apartment page and expecting your ideal renter to find it is NOT enough.
If you want to use Facebook to fill your vacancies, you must:
Invest in Facebook Advertising Campaigns.

Target the right audience.
Create the right message.
While the above steps are easier said than done, you CAN make Facebook work for you. The key is to be HIGHLY SPECIFIC with targeting features: Geographic location, marital status, income, and age are just some of the filters that can ensure the right people see your advertisements.

Admittedly, identifying target audience traits is challenging for most businesses. However, as a property manager, you have a unique advantage: Access to the key demographics of your current tenants. Want more information than lease records can provide?
Survey your current tenants to learn more about their likes, dislikes, and preferences; and use that information to improve your FB ad targeting. Of course, getting in front of the right people is only part of the equation.
Your ad must give people a reason to take action; whether that means picking up the phone, providing an email address or touring the property. Think FUN AND USEFUL.
Campaign Message Ideas

Host An Open House: Just make sure to give people a compelling reason to come. Your best bet is utilizing a holiday theme and partnering with other members of the community. Ask yourself: How can we create a FUN event people would WANT to attend on a Saturday? Local music artists, gift-making tutorials, FREE gift-wrapping, art exhibitions...
Showcase A Promotion: Offering to pay the first 2-months heating bills for new tenants? Giving away flat screens? Showcase it front and center in your FB ad.
Color Your Dreams: This idea comes from leasing professional Debbie Christensen. Her "Color Your Dreams" campaign was created to help prospective residents visualize themselves in their new homes. Coloring books of floor plans were given to future residents, regardless of age. Ask yourself: Could we create a similar giveaway to help renters think of new decorating ideas?
Want more ideas? Check out these 20 successful Facebook ad campaigns.
02. Post Better Craigslist Ads

Most property managers approach posting on community Websites entirely wrong. They post spammy headlines on Craigslist over and over again, hoping to get attention.
While the tactic DOES get attention, we can assure you—it's NOT the kind of attention you want.
The way to stand-out on sites like Craigslist is to actually:
Avoid over-posting

Infuse your ad with property-specific keywords AND
Be memorable
Look, there is no use in over-posting. If someone doesn't like your original ad, they will just become annoyed when they have to see it again AND again!
Instead of publishing several ads, focus on writing ONE AMAZING ad. Include high-quality photographs, showcasing the property from multiple angles; descriptive keywords renters are searching for (i.e. natural light, location specifics, nearby businesses); and non-salesy language.
03. Offer Creative Incentives
A secret?

People want to feel like they're getting the better end of the bargain. Consider offering a worthwhile incentive in exchange for signing a winter lease. Here are some creative ideas to start the brainstorming process:
Potential Incentives:
Free flatscreen televisions
1/2 off the first month's rent
Payment of winter utility bills
Amazon Prime subscriptions (especially desirable for NYC)
04. Update Review Sites
When is the last time you updated your apartment review profiles? While you may not have any control over any negative reviews already posted, it's never too late to turn things around.
If you do have negative reviews on sites like Yelp, Google and ApartmentReviews consider taking the following actions:
Asking long-standing tenants to post positive reviews in exchange for an incentive.
Addressing negative comments directly on the page.
Updating your property photos (pictures count for a lot).
05. Post Flyers At Bus Stops
Sometimes nothing generates faster results than going "old-school."

While you may not have hundreds of bucks to shell out on bus signage, you can achieve equally desirable results with flyers. For around $10 in copy fees, you can create your own advertisements. Simply, tape them on bus stops in your property's area.
Again, use the same strategies provided for posting on Craigslist to make your flyer stand out. You may be surprised at how much traffic this simple tactic delivers.
06. Target New Businesses
Do you subscribe to your local business journal?
Doing so can be an excellent way to identify new businesses in your area. Say you learn of a new shopping center opening up next month. The businesses leasing space will undoubtedly be hiring employees—some of whom will need a place to live nearby.
Contact the property supervisor and ask if they need rooms to conduct job interviews. Offer a space in your building free of charge. Additionally, don't be afraid to "knock on the doors" of previously established businesses in the area.
An easy way to create a WIN-WIN is to create a Resident Welcome Folder that contains coupons for nearby establishments. Explain to the business' marketing directors that you would like to give them free advertising in exchange for posting your flyer where it can be seen.
07. Partner With Your Local Humane Society
Do you allow pets on your property?
It's estimated that as many as 50% of Americans own pets. Unfortunately, the percentage of property managers who allow pets is much smaller.

Thus, being pet-friendly can be a great marketing tool. Offer to work with your local Humane Society to hold a pet adoption fair on-site. Promote the program with posters around town and on Facebook.

Create a press release to submit to local veterinary offices, radio stations and TV stations. They may just help you promote the event free of charge.
Don't Sit On Empty Units
We hope you have enjoyed this article and have found some tips worth implementing. Choose the apartment promotions you think will generate the quickest results and save the rest for increasing property awareness in the year to come.
Of course, the best way to fill winter vacancies is to avoid them in the first place. Time your leases to end between December 31st and August 31st for best results.
Looking for other ways to increase your bottom-line? Check out 7 Surprising Tenant Habits That Are Costing You Money