4 min read
The Most Desirable Apartment Features Tenants Look For

David Schwartz Sep 13, 2016 2:11:24 PM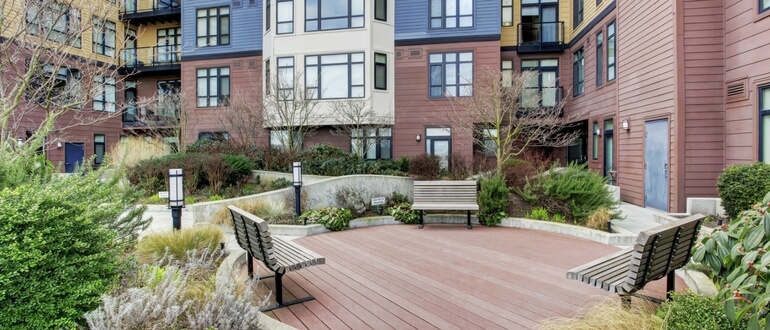 They say home is where the heart is—but it's actually wherever someone feels most comfortable.
As expected, different people have different requirements for what constitutes a comfortable living space. Nonetheless,
there are some criteria most renters readily agree upon. It's important to remember that whenever a prospective renter is touring your building, they are silently "checking off boxes" in their minds.
In this article, we'll review the most desirable apartment features tenants are looking for in 2016. Implement as many of these tips as you can and get your units rented faster.
9 Most Desired Apartment Features
01. Convenient Location: "Walk Score"
Though a convenient location has always been desirable, it now appears to be more valuable than ever. Over the past decade, there has been an exodus of young people moving to city centers. 


While their parents placed a premium on large yards and big houses, Millennials overwhelmingly seem to prefer smaller, urban units. With that said, there isn't anything you can do to change your address, however, if you do happen to live in a desirable area, make sure you are emphasizing your location in advertising materials. 

You can do this by highlighting your building's Walk Score.
A location's Walk Score is measured on a scale from 0 to 100 based on walking routes to popular destinations like grocery stores, restaurants, parks, and schools. Determine your building's Walk Score and emphasize it on your website, promotional materials, and apartment tours.
02. Personal Washer/Dryers
No doubt, outfitting individual units with washers and dryers is expensive. Though you will be able to recoup their cost in the form of raised rents (a $50/month increase on average), upgrades shouldn't be made haphazardly. 

Especially, when there are easier ways to increase profits with a quicker ROI.
With that said, no one likes hauling dirty laundry FAR FAR away on a busy day! While the convenience of individual washer/dryers is preferred, tenants will also appreciate on-site laundry centers. After all, have you ever waded through snow on the way to the Laundromat during an NYC winter? Brrr!
03. Security Features
Another important feature prioritized by tenants is building security. As previously mentioned, there isn't anything you can do about your location, but, if you live in an urban area, you absolutely must provide top-notch security. 


Depending on the nature of your building, that could mean anything from a sensor-operated entrance, a security guard, or double-bolted locks. Savvy tenants will also check unit windows for secure latches. Additionally, ensure your building's parking lot, entry way, and common areas are brightly lit during evening hours. Newer LED lights are both effective and cost-efficient.
04. Recent Renovations
Renters know the unit they are considering was previously lived in, but that doesn't mean they want it to feel that way.
An important part of building a home is making it feel like your own. For whatever reason, this is much easier to do in a space that feels brand new. In addition to scrubbing units down in between tenants, you should be following an annual renovation plan.
While you don't have to make a ton of expensive updates at once, you should prioritize incremental improvements to keep up with ever-evolving expectations. Stainless steel appliances, modern fixtures, and wood/concrete floors are quickly becoming the norm.
05. Abundant Natural Lighting
Some tenants will value the light provided by large windows more than others, but the ones who do value it? Boy, you better believe it's a deal-breaker.
Sunlight has been scientifically proven to improve mood and feelings of well-being. Those who feel especially affected by lack of natural light will prioritize it during their search. Make your rooms as bright as possible by trimming over-sized limbs, replacing dingy screens, and fixing any other elements that block light.
06. Eco-Friendly Features
Gone are the days when "helping the environment" was a topic limited to tree-huggers. The majority of the world's scientists now agree climate change is occurring. As such, many eco-friendly practices have officially gone mainstream.
Recycling programs, CSAs (Community Sponsored Agriculture), and energy efficient appliances are all huge draws to Millennials. Note: We've mentioned the 18 to 34-year-old demographic a couple times in this article for a reason—the group officially surpassed Baby Boomers as the largest generation in the U.S. workforce in 2016. 


Unfortunately, many landlords drag their feet on implementing eco-friendly features. They incorrectly assume they have little to gain, but that's not the case. The Water Scrooge has helped landlords literally save thousands of dollars by outfitting units with tamper-proof showerhead regulators, faucet aerators, and toilet calibrations—all while helping the environment.
07. Pet-Friendly Areas
Approximately 3 in 5 Americans owns a pet, according to the May 2011 Harris Poll. If you are one of these people, you understand just how important furry companions can be. For many, dogs are family.
And if your building doesn't currently offer pet-friendly areas, you could be deterring a large number of potentially wonderful tenants. Creating a designated "dog park" is a relatively small investment that could make a huge difference in attracting tenants.
08. Outdoor Space
The worst trade-off of urban living? Not having a backyard.
As previously mentioned, most younger renters will gladly sacrifice space for convenience. But that doesn't mean they're not still seeking an urban oasis. Community centers, barbecue pits, and nature paths are all highly sought after commodities. Even if it's not a private balcony, such outdoor spaces can often validate sizable increases in rent. Have an urban building with little extra space? Consider converting the rooftop into a grassy area.
09. Storage Space
Finally, one feature that will never go out of style—storage space.
Cleaning tools, holiday decorations, and winter coats all need a home. Your current units may or may not have large closets. If they do not, consider building modern shelving and cabinet space into common rooms. A less desirable option would be creating a sort of community space with privacy lockers.
The Most Desirable Apartment Features Tenants Look For
While apartment rental trends may come and go, these features won't. And you know what never goes out of style? A management team that provides high-quality customer service and a maintenance crew that provides responsive request fulfillment.
Implement as many of these features into your property as you can and watch your desirability rating soar.
---
The Water Scrooge™ offers water conservation ways and products to multi-family landlords and homeowners, including: shower flow controllers, Leak Detection Systems, Toilet Leak Prevention Devices (The Toilet Scrooge™), water flow management devices (SMART Valve™), toilet calibration and DIY products.
Also featuring The Water Scrooge™ App. Our app empowers your team to carry out the installation of our kits. With it, you can also record and track data points about the units (other than water usage).