4 min read
How Much Does it Cost to Paint an Apartment Complex?

David Schwartz Sep 27, 2016 9:00:00 AM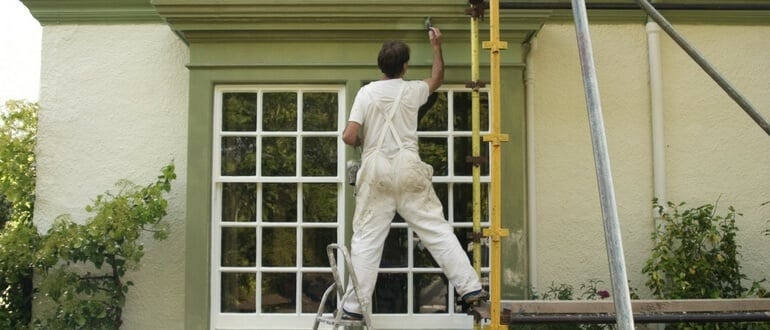 When it comes to painting, there's usually a volley of questions that follow.
What color?
What gloss?
Should we prime?
What's the best brand?
Property managers have a more difficult decision. You have to decide on everything, and when you're taking care of over 100 units, those decisions can have enormous consequences.
The Factors of Large Paint Jobs
Every location has different requirements when it comes to painting.
New York City requires that landlords paint apartments every three years1.
That means, depending on the number of units you own, you're looking at a constant cycle of fresh paint.
The good news is that even if legal codes are forcing your hand to move in swift brushing motions, that new coat can do a lot of great things for your apartments.
While units need to be painted whether a tenant remains or is moving out, painting the apartment improves the aesthetic quality of your rentals, therefore increasing the potential market value. Add some fresh baked cookies and you'll have a new tenant in no time.
The important thing to remember is that by planning out your paint jobs, you can effectively save money with the whole process.
1. The Area to be Painted
The key factor that will help decide the rest is what you're actually painting. If you're covering an area that requires lots of fine detailed work, you're going to spend significantly longer than if you can roll an open wall.
The same can be said for nooks, high ceilings or other vaulted areas, and around cupboards. Certain spots are hard to reach without the right tools, but more on that later.
One gallon of paint can cover roughly 400 square feet. Oil-based paints will cover less, but latex may give more. The area you're painting will give you insight as to how far you can stretch it based on the number of coats and any detail work with moldings.
You'll also need to judge the amount of prep work required. If you're covering a darker paint with something light, a coat of primer is required. However, that coat of primer can also help your top layer adhere to the wall better, helping it look fresh for longer.
Prep work, like cleaning, plastering, or placing new moldings should be considered as it can add to the cost and time of the project.
2. The Type of Paint
Aside from the brands and the quantity you're purchasing, there are a lot of differences in paint that can factor into the cost.
The main difference in pricing will be between latex and oil-based paint. While you'll generally pay more for oil, it will cover a larger area, go on smooth, and give you plenty of working time as it dries. On the downside, it can crack and fade over time, hold an odor, and is difficult to clean off of the stuff you didn't mean to paint.
With latex, you're looking at a more affordable product that's more readily available. It can be easily cleaned and won't fade over time. It will, however, cause wood to swell, so depending on where the paint is applied, multiple sanding jobs could be required. Unlike oil-based paint, you may need multiple coats to cover up darker colors.
As the property manager, you need to decide which pros are worth it based on your specific needs.
Along with the base, your color selection will factor into how much paint you buy. Darker colors can mask many blemishes from preceding coats, while lighter colors will need more layers—meaning more money.
The last factor in the paint purchase is the finish, i.e. glossy or matte.
Matte finishes absorb light well and are great for hiding issues with the surface of a wall. They're more difficult to clean, but if you need to touch up a spot, it can be done without creating a darker patch of paint.
The glosses are easier to clean and reflect light, giving rooms a more vibrant glow. They also require more preparation time in order to ensure the surface is perfectly smooth.
3. The Equipment
Equipment can be one of the major deciding factors for whether you do the painting yourself or hire out because as it can be most the expensive component.
For a square room with one window, you'll need brushes, paint trays, drop cloths, rollers, and roller covers. This may not seem like much, but when you realize that these tools aren't as durable as they seem, you start adding additional purchases.
Other required items can include ladders, painter's tape, and cornering tools. The list goes on and ultimately becomes a choice between time-savers or money-savers.
The Real Price: Hiring Out or Going it Alone
The decision on who's doing the painting can be tough, but it can also be really easy. If you're a large-scale property manager with over 300 units, odds are, you're not painting them yourself.
That means you'll need to look at hiring. This excellent tool can help estimate the cost to hire painters in your area.
In New York City, for example, the average low-end contractor charges $275 for 250 square feet. That includes your supplies, labor, and maintenance. The high-end for the same is over $700.
If you're just looking at hourly rates, you can find freelancers as low as $25 an hour and highly skilled professionals that range over $80. Since professionals are likely to use paint sprayers with a higher precision than their low-end counterparts, they'll also be able to cover ground faster, giving you more bang for your buck.
With an idea of your budget, you can estimate that 15% of that will go to your painter while the rest goes to supplies and maintenance of the area you're covering.
Painting apartments can be a large undertaking, but with some proper planning and the right people, you can have units that are up to code and enticing to live in. Look at the project, set your budget, and have at it.
1 New York City Administrative Code Article 3 - § 27-2013
---
The Water Scrooge™ offers water conservation ways and products to multi-family landlords and homeowners, including: shower flow controllers, Leak Detection Systems, Toilet Leak Prevention Devices (The Toilet Scrooge™), water flow management devices (SMART Valve™), toilet calibration and DIY products.
Also featuring The Water Scrooge™ App. Our app empowers your team to carry out the installation of our kits. With it, you can also record and track data points about the units (other than water usage).