2 min read
Case Study - Grand Concourse Apartments - The Toilet Scrooge™ Savings

David Schwartz Jan 30, 2023 11:29:11 AM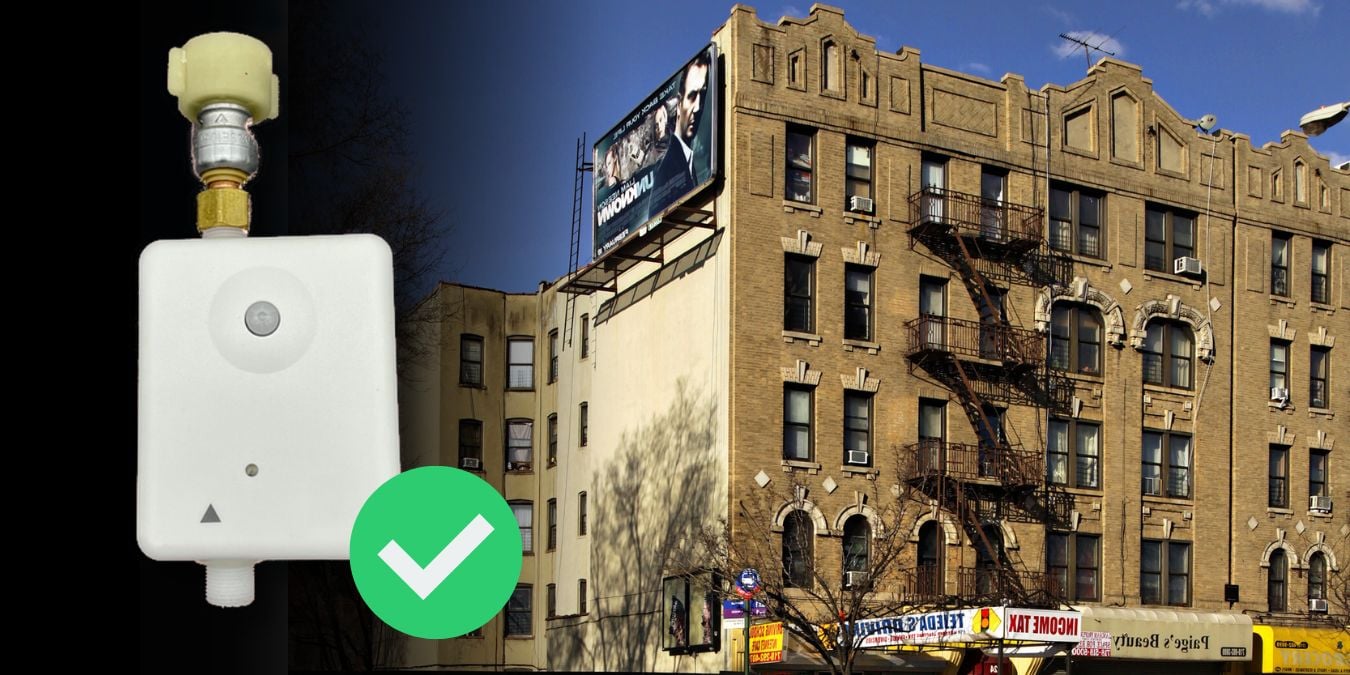 The Toilet Scrooge™ is the perfect device for anyone wanting to save water, money and avoid leaks! Installing it under any tank toilet using either hose lines or hard-line solutions couldn't be easier.
We recently conducted a case study on how this device amply contributed overnight savings at the Grand Concourse Apartments - check it out now! With its user-friendly design and hassle free installation process you can start enjoying leak prevention benefits of The Toilet Scrooge™ right away.
Background
The innovative Toilet Scrooge™ device is equipped with a motion sensor that captures the presence of anyone in the bathroom. When movement is detected, it automatically opens the valve to allow water flow into your toilet—but as soon as they leave, it closes again, halting any additional leakage! Genuinely remarkable technology paired with unbeatable convenience and reliability; now you understand why we're so proud of our product!
The Toilet Scrooge™ leak prevention device utilizes motion sensor technology to precisely control water flow and has been designed to keep itself self-powered without ever needing a battery change.
How? The device features a miniature water wheel, collecting energy from each flush in order to recharge the power supply.
Challenge
Toilet Scrooge™ valves came to the rescue of toilets that needed fill valve repairs or had leakage issues. Unless triggered by motion, these valves stayed in their default position - closed. However, when someone entered the bathroom and disturbed the sensor's range, it automatically opened up and allowed water to enter the toilet tank for flushing purposes.
This innovation has been designed to protect toilets from calling for water when there is something wrong. The Valve will remain open only for up to 8 minutes and then shut itself off, reducing the steady water flow significantly.
At the start of our trial, we outfitted cold water riser lines with leak detection sensors to recognize substantial water consumption in multiple lines providing various apartments.
Solution
As the leak detection system revealed higher water usage on certain lines in the building compared to others, we equipped these CW lines with The Toilet Scrooge™ valves on Feb 1, 2022.
Results
By controlling the water flow to the non-functioning toilets, we decreased the monthly loss rate (illustrated below) drastically by comparing 2022 to 2021 (an average of 44% savings in a whole year!)
We are incredibly thrilled about the initial successes of this technology and the tremendous effect it has had on water conservation.
After installing the toilet leak prevention device, no repairs were needed, solely from the valve limiting the water flow to the toilet.
The tables below illustrate the monthly impact from when the projects were completed.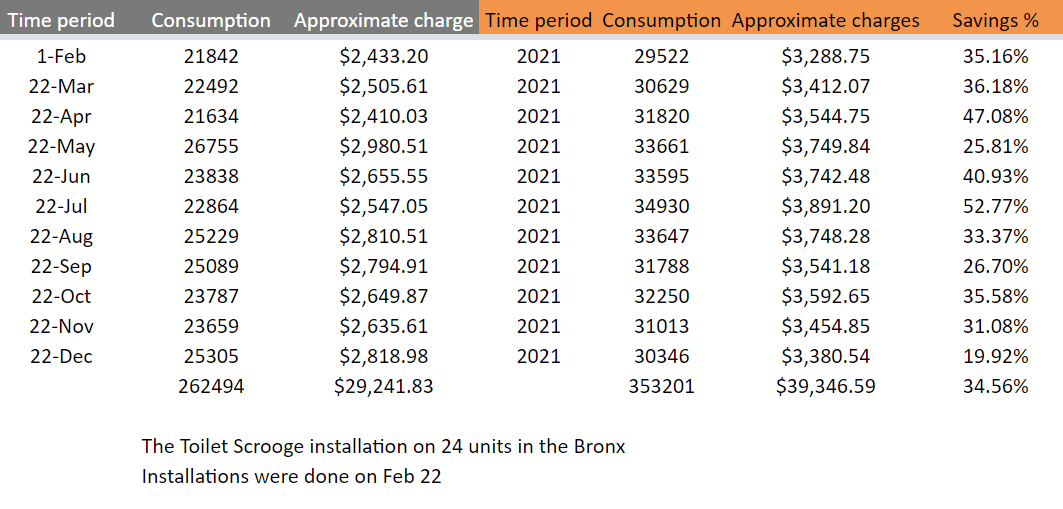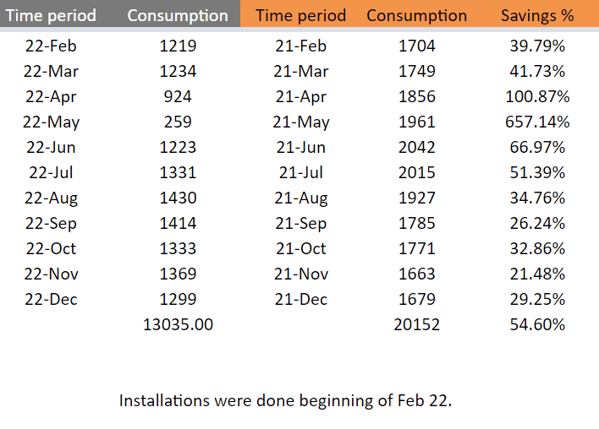 Toilet Scrooge™ Savings Solutions
Unlike leak detection solutions in the market, The Toilet Scrooge™ prevents leaks instead of just detecting them - making it an all-around, better solution for leaky toilets!
Our Toilet Scrooge™ customers save about 15% on their water bills!
Learn more about how much money you can save with the Toilet Scrooge™.
---
The Water Scrooge™ offers water conservation ways and products to multi-family landlords and homeowners, including: shower flow controllers, Leak Detection Systems, Toilet Leak Prevention Devices (The Toilet Scrooge™), water flow management devices (SMART Valve™), toilet calibration and DIY products.
Also featuring The Water Scrooge™ App. Our app empowers your team to carry out the installation of our kits. With it, you can also record and track data points about the units (other than water usage).